Overview of the event
Concept
As new technology fields called CASE become the center of competition in the automobile industry, there is a shortage of AI and IT engineers, and the need for them is rapidly increasing throughout the automobile industry.
As a new initiative to discover and develop engineers who will lead the automotive industry in the future, we will hold an international competition to compete for AI technology in autonomous driving.
We aim to build a framework that contributes to the further development of the automobile industry, starting from this competition, which is conducted through industry-government-academia cooperation.
Date
Final round :
Online simulation competition
December 1, 2022 (Thursday) to January 31, 2023 (Tuesday)
Awards ceremony
End of February 2023 (planned)
Competition content
This is a simulation competition that uses Autoware and runs in specific areas of Tokyo according to actual traffic rules.
It is divided into "Challenge Course" for beginners and "Advanced Course" for advanced students. However, the course will not be selected at the time of registration. After registration, you will be able to touch both courses and finally select the course according to your skill level.
How to participate
Registration is closed.
Awards (tentative)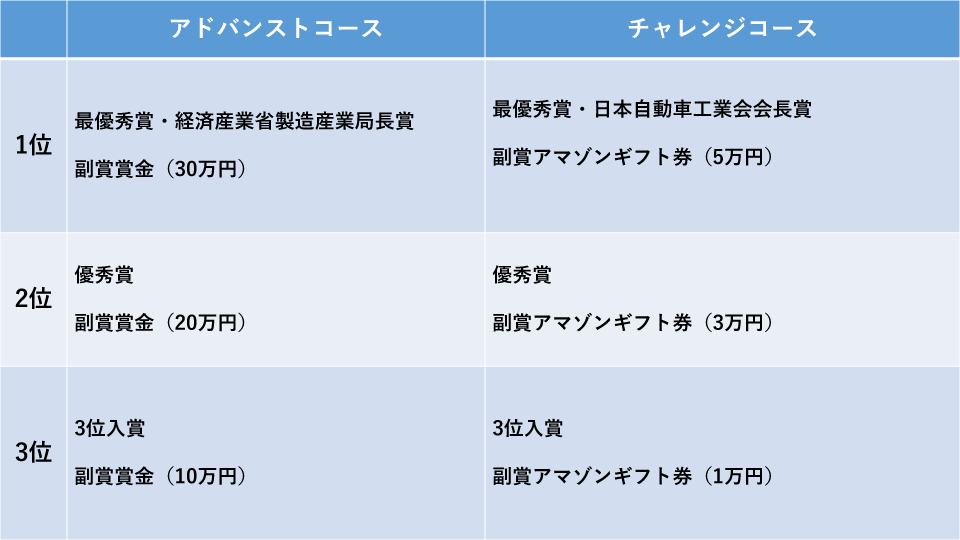 Operating system
Organized by: Society of Automotive Engineers of Japan
Sponsored by: Ministry of Economy, Trade and Industry, Institute of Industrial Technology, Tokyo University,University of Tokyo Mobility Innovation Collaboration Research Organization (UTmobI), Japan AutomobileManufacturers Association,Japan Auto Parts Industries Association,japan deep learning association
Special sponsorship:
Competition sponsors: We are looking for companies / organizations that agree with the purpose of thiscompetition and support us as sponsors of goods and operating funds. Please contact us for details.
Platinum class
Gold class
Silver Class
Bronze class