Awards
The JSAE, in the interest of encouraging improvement and development of automotive and automotive engineering technology, as well as to train the engineers and researchers that will lead the next generation, recognizies with these awards the activities, achievements, and contributions of those who support these endeavors.
About JSAE Award
The awards were established in 1951 with the goal of "encouraging the development engineering and automotive technology." Since their inception, the awards have attracted attention as a representative mark ofthe automotive technology field and of the JSAE, with the winners taking on high regard for their achievements.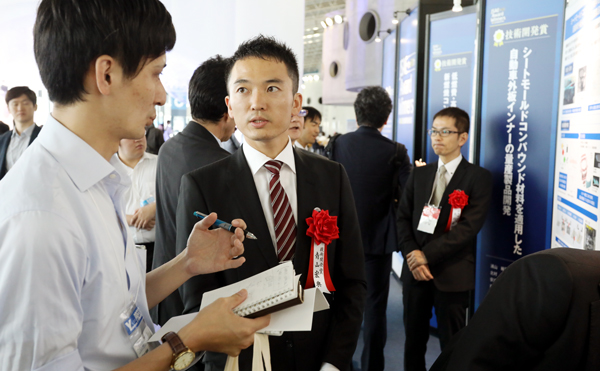 Q&A with the award recipients
Currently, there are six awards presented annually.
| Name | Target |
| --- | --- |
| The Scientific Contribution Award | Awarded to individuals who have contributed to academic progress in the automotive field. |
| The Technological Contribution Award | Awarded to individuals who have contributed to advancing the development of automotive technology. |
| The Asahara Science Award | Awarded to an individual under the age of 37 who, through a paper, presentation, etc.of particular excellence has demonstrated potential and up-and-coming talent. |
| The Asahara Award of Merit in Technology | Awarded to an individual who, although largely unknown to the broader world, nonetheless exhibited exemplary merit with regard to the advancement of automotive engineering over many years. |
| The Outstanding Technical Paper Award | Awarded to individuals who author and/or co-author papers of particular excellence on the subject of automotive technology. |
| The Technological Development Award | Awarded to individuals who develop and/or co-develop new products or technologies that contribute to the advancement of automotive technology. |
Other Award(for Engineer & Resercher)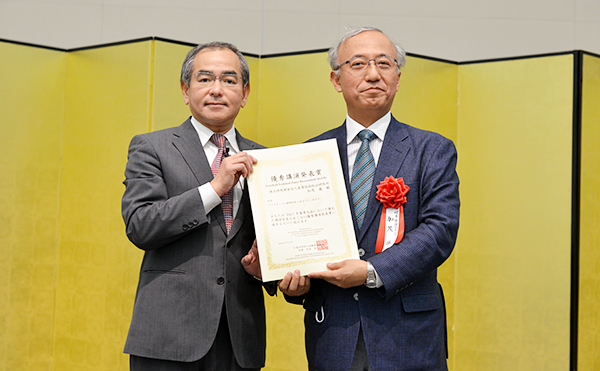 Society of Automotive Engineers of Japan Awards Ceremony
| Name | Target |
| --- | --- |
| Engineering Education Award | Awarded to individuals who, in schools or through social education, encourage the improvment or development of automotive engineeering education and/or human resource development. |
| JSAE Fellow | Members of the JSAE who have made significant contributions to the aims of the Society in the field of automotive engineering are granted the title of JSAE Fellow. |
| Standardization Activity Merit Prize | This award honors the achievements of those who have given exemplary performances with regard to the Society's standardization activities. |
| Award for Contributions to the Field of Engineering | Awarded to individuals who have made a signifcant contribution to sector committee activites and technical meetings, promoting revitalized sector meeting activities. |
| Outstanding Presentation Award | This award is presented with the aim of always increasing the level and quality of the presentation of academic lectures. |
| Technical Paper Presentation Administration Commendation | This is award is presented to honor the achievements of individuals or organizations that have made significant contributions to techincal paper presentations, with the aim of increasing of the number of lectures and technical presentations at future events. |
Other Award(for Students)
| Name | Target |
| --- | --- |
| Graduate School Research Award | Awarded to graduate students who, in the course of their gradaute studies, have contributed outstanding research in the field of automotive development. |
| Student Activity Organization Merit Award | Awarded to student members who have shown distinguished service in activities of the Student Automotive Research Association. |